Working Groups & Taskforces
ECA Working Groups, Taskforces and participation in other forums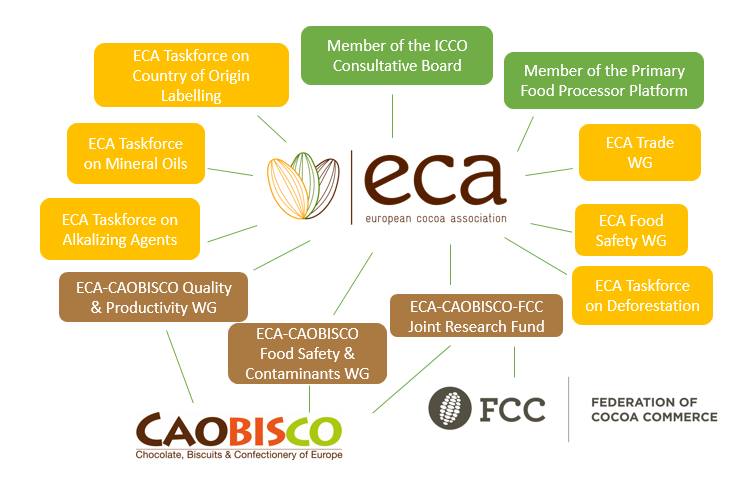 Working Groups (WG) and Taskforces are composed of ECA members' experts who deliver strong and clear industry positions that benefit all members.
The ECA Food Safety Working Group addresses current and arising issues and monitors regulatory developments mainly concerning contaminants, pesticides & other matters of common interest. WG members further provide their input to scientifically-sound statements (for internal use or customers), and to position papers addressed to the EU institutions. Within the WG, several Taskforces focus on specific issues.
The Joint Working Group on Food Safety and Contaminants operates in cooperation between ECA & CAOBISCO experts, and meets twice a year. Technical in nature, this WG monitors regulatory developments connected to food safety. Activities of the Joint WG are complementary to those of the ECA WG on Food Safety, i.e. the discussion on arising threats and concerns and the development of Joint strategies and industry positions to be addressed to national, European and international authorities. This WG collaborates with ICCO, research institutes at EU and cocoa producing country levels, and plant protection products manufacturers.
The Joint Quality & Productivity (Q&P) Group: Tackles issues such as breeding variety, off-flavours, moisture, free fatty acids mitigation, soil fertility, pest & disease management, and planting material. Experts from ECA, FCC, and Caobisco meet twice a year.
The Joint Research Fund: ECA, CAOBISCO,  and the FCC are committed to working towards more sustainable cocoa whereby cocoa is safe for consumer consumption, complies with manufacturers' quality requirements and meets the growing demand. Given deteriorating yields (current average cocoa yields are around 400kg/ha) and quality levels in several countries, the need to rehabilitate existing cocoa producing land (through planting material, fertilizers), and growing consumer interest in cocoa sustainability, the review of sustainable industry needs in terms of quality and productivity is a key priority.
In 2013, ECA, FCC and Caobisco joined forces by setting up a Joint Research Fund which is currently administered by ECA. On average, three projects (that typically run over a two to five year timespan) are administered through the Fund at the same time.
Current and past projects include:
Cocoa Bean Quality Requirements Guide (available here in English, French and Spanish) – completed
Detection of Cocoa Swollen Shoot Virus (CSSV) – completed
Research on the improvement of yield efficiency and resilience to climate change through better use of cocoa genetic resources (within the Collaborative Framework of Cacao Evaluation – CFCE): phase 1 completed – phase 2 underway
Research on occurrence and mitigation of cadmium in cocoa: phase 1 completed – phase 2 underway
Research on main sources of MOH contamination and entry points into the cocoa supply chain – underway
To understand the genetic basis of resistance to VSD in cacao and to develop high-throughput DNA tools to permit Marker Assisted Selection – underway
ECA Trade Working Group: Monitors developments regarding EU international trade policy, notably negotiations for Free Trade Agreements and Economic Partnership Agreements, preferential tariff systems (Generalised System of Preferences), rules of origin, and WTO-specific dossiers. The Group also addresses non-tariff barriers (e.g. SPS issues & administrative requirements). Together, they establish a common European cocoa industry position and clearly communicate it to the European institutions.
ECA COOL Taskforce: Deals with voluntary vs. mandatory labelling of food products and has been active since 2014.
ECA Taskforce on Deforestation: In September 2017, ECA set up a Taskforce on deforestation to monitor and respond to the EU and International developments in terms of deforestation in the cocoa supply chain. Equally, the team of ECA experts is working closely on a regular basis on drafting the ECA position paper, to establish a set of priorities for actions, notably to identify and prioritze the support needed from the EU to make change implementable in cocoa producing countries. The Taskforce members engage in regular dialogue with the EU Commission authorities, as well as with other international & cocoa related organizations in order to exchange views on the actions to be stepped up both on the demand and supply side of the cocoa value chain.